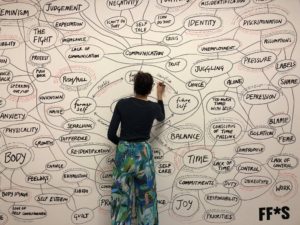 Fight for Self Collective – Adelaide Central Gallery – 14 Aug ??? 7 Sept 2018
Exhibition opening: 6-8pm Tuesday, 13 August 2018
Fight for Self Forum: 2-4pm Saturday, 18 August 2018
Good Mother is an exhibition that brings together six mother/artists in a sensitive exploration of the lived maternal experience.
Good Mother is curated by Gabrielle Lane, graduate from the University of Adelaide???s Master of Arts (Curatorial and Museum Studies). The exhibition includes work by artists Fran Callen, Zoe Freney, Jess Mara, Jess Taylor, and Fight for Self Collective (Polly Dance & Heidi Kenyon).
???Good Mother seeks to explode the myth of the submissive and self-sacrificing mother,??? says curator, Gabrielle Lane, ???these artists show us the struggles and triumphs of motherhood, in a diverse range of contemporary and experimental works.???
Fight for Self – ACE Open – 23 September 2017
Discussion: 2.30-4.30pm Saturday, 23 September 2017
Fight for Self (FF*S)??is an ongoing project coordinated by Heidi Kenyon and Polly Dance. FF*S launched with an open discussion event hosted at ACE Open on Saturday 23 September as part of FRAN FEST 2017.
FF*S seeks to involve participants in an open dialogue centred around topics of feminism, motherhood*, taboos and the societal pressures that women in the arts face and fight against on a daily basis.
*Note this discussion is not limited to mothers but is an open dialogue around the aforementioned topics. Parents, non-parents and all genders welcome.
FF*S project was established by Heidi Kenyon, Polly Dance and Nic Brown.
What is in a name? -??Archive Space – 21 January – 7 February 2015
Exhibition opening: 6-8pm Wednesday, 21 January 2015
What is in a name? was my first solo exhibition consisting of a series of responses to Archive Space, located at 5 Eliza Street, Newtown, Sydney – a site of significant physical, lived and archival history.
The gallery is housed in what used to be the library in the old Newtown School of Arts, founded in 1899 and officially opened in 1916.
The exhibition identified the space as a site for further arts dialogue and research. The research begun with a series of questions, whereby I sought to find the answers on-site in the week leading up to the exhibition opening. Through focused observation, imitation and reflection, a series of works were developed that responded to the physical, material, built, collected and lived history of this space.
#whatisinaname
For more information:??click here.